Who we are
The Choir
Founded in 1980, The Llewellyn Choir is recognised as one of Canberra's leading amateur choral groups. Under the baton of current Music Director Rowan Harvey-Martin with Répétiteur Anthony Smith, we have given critically acclaimed performances in recent years of Mozart's Requiem, Bach's St John Passion, Handel's Messiah, John Rutter's Requiem, Duruflé's Requiem, Ariel Ramirez's Missa Criolla, Bernstein's Chichester Psalms and Bach's St Matthew Passion.
In 2009, we performed Fauré's Requiem with the New Caledonian choir Les Alizés in St Joseph's Cathedral, Noumea. In return, Les Alizés visited Canberra in March 2011 to combine in a joint performance of Berlioz' Te Deum.
In 2010 we celebrated our 30th birthday with a concert featuring Brahms' German Requiem.
The Llewellyn Choir established and sponsors the annual Margaret Smiles Accompanist Competition.
The Llewellyn Choir is an incorporated body in the ACT. The Committee is elected annually and takes the normal format of officers, plus committee members with a representative of each voice part also on the committee.
Music Director - Rowan Harvey-Martin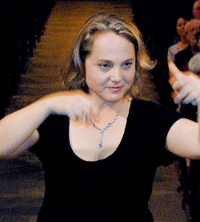 Rowan Harvey-Martin has been Music Director of The Llewellyn Choir since 2006. Rowan graduated in violin with honours from the ANU School of Music and has also studied at the Eastman School of Music, New York. She is Principal Violin with the Canberra Symphony Orchestra and Co-Artistic Director and Concertmaster of The Llewellyn Sinfonia.

In 2007–09 Rowan took part in Symphony Australia's Conducting Development Program with Christopher Seaman, conducting the State Orchestra of Victoria and the Adelaide and Melbourne Symphony Orchestras. Also in 2007 she was assistant to Nicholas Milton with the Canberra Symphony Orchestra, and in 2010 Rowan conducted The Adelaide Symphony Orchestra in their 'Tea and Symphony' series.

In 2009 Rowan was awarded the Stuart and Norma Leslie Churchill Fellowship to further her studies in conducting in Europe and the United States. In 2010 she conducted the Canberra Youth Orchestra in its performance of Beethoven's Symphony No. 4 and Stravinsky's Firebird Suite, and the Canberra Choral Society in a concert of English music in 2011.

In Sydney, Rowan has worked with Sonic Art Ensemble (formerly The Seymour Group) and regularly performs in the Freshwater Chamber Music Festival in Sydney at which she conducted Prokofiev's Peter and the Wolf for the Conservatorium High School Alumni in 2009. Rowan also regularly conducts the Ku-ring-gai Philharmonic Orchestra in Sydney.

In 2012 Rowan also became Chief Conductor of Canberra Youth Orchestra and Artistic Director of Canberra Youth Music. Canberra Youth Orchestra performed William Walton's Henry V Suite and Prokofiev's Romeo and Juliet Suite No 2 in collaboration with Canberra Dance Development Centre to rave reviews, and in September 2012 performed Carl Vine's Symphony No 2 and the Australian premiere of Kevin Puts' piano concerto Night featuring Bernadette Harvey. With Sydney Youth Orchestra Rowan conducted John Antill's Corroboree for the Arts in the Valley Festival in Kangaroo Valley in 2012.

She has also performed with CYO Holst's The Planets, Sibelius's Symphony No. 1, Dukas' The Sorcerer's Apprentice, Beethoven's Symphony No. 4, Stravinsky's Firebird Suite, Saint-Saens Organ Symphony, Elgar Cello Concerto, Smetana Die Moldau, Prokofiev's Piano Concerto No. 2, Corigliano's The Red Violin Suite, Vaughan Williams' Fantasia on a Theme of Thomas Tallis, Vaughan Williams' Symphony No. 2, Reger Variations and Fugue on a Theme of Mozart.

For Canberra Choral Society Rowan has conducted Elgar's The Banner of St George. Rowan is currently Musical Director of The Llewellyn Choir. With The Llewellyn Choir she has conducted Mozart's Requiem in D minor; John Rutter's Requiem; Haydn's Nelson Mass; Bach's St John Passion and ; Handel's Messiah; Brahms's A German Requiem, Liebeslieder Walzer, Warum and Nänie; Berlioz' Te Deum; Rutland Boughton's Bethlehem; Monteverdi's Vespers of 1610; Cherubini's Requiem in C minor; Verdi's Four Sacred Pieces; Britten's A Company of Heaven; Finzi's Magnificat; Howell's Requiem; and Vaughan Williams' Benedicite.

In 2014 Rowan conducted two Australian premieres for the World Harp Congress in Sydney in June. These were Bernard Andrés' Le Barde Muet with soloist Alisa Sadikova (Russia)and Sally Beamish; Seavaigers with soloists Catriona McKay, harp and Christopher Stout, fiddle (UK) and the Australian Metropolitan Musicians.

Updated Aug 2014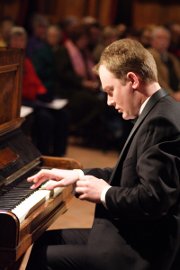 Anthony Smith has been the The Llewellyn Choir's répétiteur since 2002. He has performed in Australia, England, New Caledonia, New Zealand, the USA and Sweden. As well as accompanying tertiary-level students at the ANU School of Music, he performs with choirs, ensembles and instrumentalists throughout the Canberra region. In December 2004 he released a CD A Year in Paris with clarinetist Nicole Canham on the Move label.

Anthony made his concert debut in July 2005, playing Schumann's Piano Concerto in A Minor with the National Capital Orchestra. In July 2007 Anthony gave a recital in conjunction with the National Gallery of Australia retrospective of the artist George W. Lambert, which included the Piano Sonata of Constant Lambert, the artist's son. Anthony's continuing interest in the life and works of Constant Lambert is the focus of his current PhD candidature at ANU, which he commenced in February 2008.

Anthony's compositions include The Will to Freedom, a music-theatre work that premièred in August 2010. For The Llewellyn Choir he composed Prologue to the Coventry Mystery Play, which the choir performed in 2013.

Updated Aug 2014
Margaret Smiles Accompanist Competition
Margaret Smiles was for many years the accompanist for The Llewellyn Choir. After her untimely death the Choir decided to create an annual competition for accompanists in her memory.
The resultant Margaret Smiles Accompanist Competition is held annually at the ANU School of Music. It provides a forum for inspiring performances by some of the most talented and accomplished young musicians from the School.
The Llewellyn Choir sponsors the Llewellyn Prize of $500 each for the most outstanding instrumentalist and the most outstanding singer of the competition.
Read about the award and about Margaret's life in this article from The Canberra Times of 1 November 2000.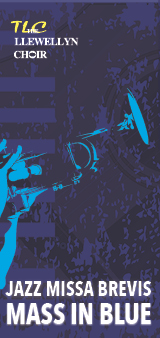 [ click to enlarge ]
---
The Llewellyn Choir acknowledges the Traditional Custodians of the ACT, the Ngunnawal, Ngambri and Ngarigo peoples.
We respect and celebrate their continuing culture.


| | | |
| --- | --- | --- |
| Copyright © 2023 The Llewellyn Choir Inc. |   | Design and hosting by Whim IT |