Biking for Brahms
The Singing Cyclist's ride from Canberra to Geraldton
UPDATE FROM THE SINGING CYCLIST

Dear sponsors, As you will see from the map, below, I have 201 km to go – that's the distance from Canberra to Cowra in local terminology. This morning I reached Perenjori – the photograph is the view looking back from the settlement.

Thanks to your generosity, I have raised $5430. This sum is made up of payments already made and sums promised on completion of the ride.

I invite you to join me for the final 5km of the ride to the HMAS Sydney II memorial in Geraldton. I, and my support team (Susan, chief mechanic) and Lynne, (psychologist), will be at the carillon on Lake Burley Griffin on Saturday 22 February at 4.00 pm. Two international supporters will be there, also.

Please join me if you are free. It will be an easy ride.

Very best wishes, Michael, the singing cyclist
27 January 2020
---
The Llewellyn Choir's own Singing Cyclist, Michael Braund, is seeking your help in raising money for the choir's 40th birthday concert performance of Brahms' A German Requiem at Llewellyn Hall in April next year. His aim is to cycle the equivalent distance from the Carillon in Canberra to the HMAS Sydney II memorial in Geraldton, some 4,000 km. The journey will take him through Wagga, Mildura, Port Augusta, Ceduna, the Nullarbor, Norseman, Coolgardie, Southern Cross and Morana and thence to Geraldton.

Your sponsorship would be of immense help in staging this concert. You could support this endeavour by sponsoring him in one of a number of ways:
At a rate per kilometre completed. 4, 000 km @ 1c per km would mean that you would contribute $40.00. At 2c per km this would be $80, and so on.
A lump sum on completion, the amount being at your discretion.
By stages. For example, at 1c per km, the following might be considered:

Canberra to Mildura (780 km): $7.80
Canberra to Port Augusta (1,300 km): $13.0
Canberra to Norseman (3,000 km): $30.0.
The Singing Cyclist's ride to Cairns in 2017 realised $3287.50 for the Verdi Requiem. He would really like to improve on this figure this time. All donations are tax deductible, and each supporter will receive a receipt from our treasurer, Paul Pollard. All rides will be recorded and The Singing Cyclist will post regular updates showing where he is along the route.

Use the form below to sponsor his journey.


Sponsorship
Choir members take pride in building bridges into the community by our support for young musicians through our creation and support of the annual Margaret Smiles Accompanist Competition at the School of Music, exchanging visits with interstate and international choirs, and combining with other choirs for large choral events, such as Opera in the Park and the Gala series with the Canberra Symphony Orchestra.
We are proud to provide performance opportunities for young musicians. Many of these, including Catherine Carby and Lorina Gore who perform with Australian Opera, have embarked on successful professional careers after singing principal parts or playing in the orchestra with the Choir.
The Choir receives no government funding. Costs are increasing and we cannot fund orchestra-accompanied works from membership fees and box-office receipts alone. We are always seeking support through sponsorship and our Friends and Patrons Program
We are on the National Register of Cultural Organisations and donations are tax-deductible.
We welcome business patrons. Please contact our Treasurer to discuss corporate packages.
There is a range of levels of membership of the TLC Friends and Patrons Program. In recognition of your support of The Llewellyn Choir you will enjoy
acknowledgment in our concert programs
advance notice of concerts
tax-deductibility for your donation
If you would like further information or would like to become a Friend or Patron of The Llewellyn Choir, please contact us
Donate Now
If you would like to make a tax-deductible donation to the Llewellyn Choir:
Send a cheque made payable to "The Llewellyn Choir Public Fund" to
The Llewellyn Choir Inc.
PO Box 965
Canberra ACT 2601

or
You can make a direct electronic funds transfer. Contact our Treasurer for account details and to obtain a receipt.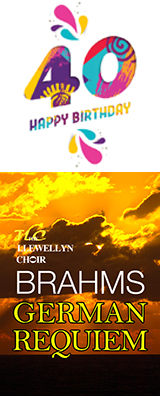 [ click to enlarge ]

Our next concert

Johannes Brahms
EIN DEUTSCHES REQUIEM
A German Requiem

7.30 pm Friday 24 April

Chapel of the Annunciation
Canberra Girls Grammar School

Enquiries
Email Llewellyn Choir enquiries


  Copyright © 2013 The Llewellyn Choir Inc.
 
Design and hosting by Whim IT