Next Concert - tour to Spain
Requiem Mass in C Minor
Luigi Cherubini

Messe Solennelle
Louis Vierne

and motets

Locus Iste
Os justi
Anton Bruckner
Ave Verum Corpus
Mozart
Bogorodyitse Dyevo
Sergei Rachamaninoff

Dates

8 pm Wednesday 18 April
Parroquia Nuestra Señora de Covadonga
Calle de Francisco Silvela, 28028 Madrid, España

8 pm Thursday 19 April
Catedral Vieja de Santa María (Old Cathedral)
Plaza Juan XXIII, 37008 Salamanca, España

1.30 pm Sunday 22 April (during sung mass)
Catedral de Nuestra Señora de la Asunción (Mosque Cathedral)
Calle Cardenal Herrero, 1, 14003 Córdoba, España

8 pm Friday 27 April
Catedral de la Santa Cruz y Santa Eulalia de Barcelona
Pla de la Seu, 08002 Barcelona, España


About Requiem in C Minor
Maria Luigi Carlo Zenobio Salvatore Cherubini (1760–1842) was born in Florence but spent most of his working life in France. He is best known for his operas, but he also composed significant church music and a small amount of chamber music. Cherubini received France's highest and most prestigious honours, including the Chevalier de la Légion d'honneur and Membre de l'Académie des Beaux-Arts. In 1841, he was made Commandeur de la Légion d'honneur, the first musician to receive that title.

Cherubini's Requiem in C minor (1816) was one of the most highly regarded sacred works of its time, often compared in its solemnity to Mozart's Requiem in D minor. Cherubini wrote it at the request of Louis XVIII, who wanted to honour the anniversary of the beheading of his older brother, Louis XVI, and Marie-Antoinette in 1793 — their bodies, long missing, had been found and were to be laid to rest in the Cathedral of St Denis. It was admired by Beethoven, Schumann, and Brahms. Beethoven remarked that if he were to write a requiem, Cherubini's setting would be a model and in fact it was played at Beethoven's funeral.
About Messe Solennelle
Louis Vierne (1870-1937) was one of the most admired and celebrated organists of his time. Born nearly blind as a result of congenital cataracts, he nonetheless received a thorough musical education. He was noticed by composer and organist César Franck, who gave Vierne private harmony lessons and included him in his organ class at the Paris Conservatoire. Vierne entered the Conservatoire as a full time student in 1890 and, after Franck's death, became the protégé of Franck's replacement, Charles-Marie Widor. In 1892 Vierne became Widor's assistant at the church of Saint-Sulpice, and in 1900 he took over as principal organist at the cathedral of Notre Dame de Paris, and stayed in that position until his death (at the keyboard, in the midst of a concert!) in 1937.

The Messe Solennelle is a work of depth, feeling, and continuous forward motion. Composed between 1898 and 1900, the Messe Solennelle received its premiere in 1901 on the majestic Cavaillé-Coll organ at St. Sulpice. The work is dedicated to French composer/organist Théodore Dubois. It was composed for two organs, and Vierne and his mentor, Widor, played in the first performance.
Upcoming concerts
For information about later concerts see our Upcoming Concerts page.
Enquiries
Want to know more?
Email enquiries@llewellynchoir.org.au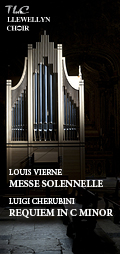 [ click to enlarge ]

Requiem Mass in C Minor
Luigi Cherubini
and
Messe Solennelle
Louis Vierne

And motets by Bruckner, Mozart and Rachmaninoff

Touring in Spain

Wed 18
Madrid
Thu 19
Salamanca
Sun 22April
Cordoba
Fri 27 April
Barcelona



Enquiries
Email Llewellyn Choir enquiries


  Copyright © 2013 The Llewellyn Choir Inc.
 
Design and hosting by Whim IT