Next Concert
1.30 pm Sunday 8 December

A Christmas Celebration
At the High Court

The Llewellyn Choir, conducted by Rowan Harvey-Martin
with
Canberra Girls Grammar School Resound Handbells, directed by Natalie Guile

Soloists
Jenny Sawer, Ashleigh Lane, Elsa Guile, Michelle Higgs

Accompanist
Dr. Anthony Smith

Program
Excerpts from Rutland Boughton's Bethlehem
plus
popular Christmas carols with audience sing-along

Concert is free but registration is required
Book through the High Court's website
Tickets are NOT available at the door.


---
Support this and future concerts by sponsoring The Singing Cyclist's ride from Canberra to Geraldton (well, the equivalent distance). See the details on our sponsorship page.
---
About the concert
Upcoming concerts
For information about later concerts see our Upcoming Concerts page.
Enquiries
Want to know more?
Email enquiries@llewellynchoir.org.au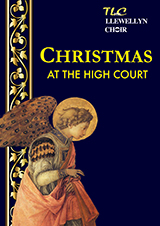 [ click to enlarge ]

Our next concert

CHRISTMAS AT THE HIGH COURT

Excerpts from Rutland Boughton's Bethlehem
plus
popular Christmas carols with audience sing-along

1.30 pm Sunday 8 December

Concert is free but booking required
Book through the High Court's website

Enquiries
Email Llewellyn Choir enquiries


  Copyright © 2013 The Llewellyn Choir Inc.
 
Design and hosting by Whim IT