2020 Fortieth Anniversary Program
Next Concert
7.30 pm Friday 24 April 2020

Johannes Brahms
Ein deutsches Requiem
(A German Requiem)

Canberra Girls Grammar School Chapel

Soloists
Sonia Anfiloff (soprano)
Matthew Thomas (baritone)

Watch this space for more details
---
Support this and future concerts by sponsoring The Singing Cyclist's ride from Canberra to Geraldton (well, the equivalent distance). See the details on our sponsorship page.
---
About the concert
Johannes Brahms (1833-1897) was not a religious man, so it is perhaps surprising that his first major work for chorus and orchestra was a Requiem, or Mass for the dead. But he insisted that his Requiem was to console the mourners left behind on Earth, not to offer prayers for the dead threatened with the horrors of the Last Judgment. He often stated that he could replace the word "German" with "Human" and be left with a more accurate title for his ground-breaking work.

Brahms used the Lutheran Bible as his source (thus the word "German" in the title), and pieced together the text with selections from both the Old and New Testaments, as well as from the Apocrypha.

Brahms never stated whether he wrote his Requiem for anyone in particular, but it may have been in memory of his mother, who died in 1865; it is also possible that it was for his great friend and mentor, Robert Schumann, whose death in 1856 after a long struggle with mental illness had profoundly affected the young Brahms.

Ein deutsches Requiem premiered on April 10, 1868 (Good Friday) at the Bremen Cathedral with the composer conducting. This premiere included only six of the seven movement we are familiar with, and Brahms later added movement V to increase the structural balance of the work. The premiere of all seven movements occurred in Leipzig on February 18, 1869.

Brahms's Requiem immediately catapulted him to international renown. It remains one of the most performed and beloved works in Brahms's vast and varied repertoire.
Upcoming concerts
For information about later concerts see our Upcoming Concerts page.
Enquiries
Want to know more?
Email enquiries@llewellynchoir.org.au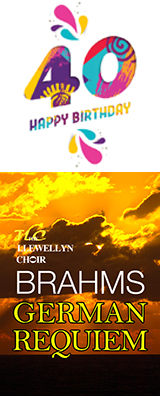 [ click to enlarge ]

Our next concert

Johannes Brahms
EIN DEUTSCHES REQUIEM
A German Requiem

7.30 pm Friday 24 April

Chapel of the Annunciation
Canberra Girls Grammar School

Enquiries
Email Llewellyn Choir enquiries


  Copyright © 2013 The Llewellyn Choir Inc.
 
Design and hosting by Whim IT