Next Concert
Sunday at the High Court concert series
1.30 - 2.30 pm Sunday 5 November
High Court of Australia
Parkes Place, Parkes

Featuring pieces by Astor Piazzola, Carlos Guastavino, and excerpts from Mass in Blue and L'Enfance du Christ

Admission is free but booking is highly recommened:
www.eventbrite.com.au/e/the-llewellyn-choir-tickets-38095422434

Registration guarantees entry but does not guarantee seating.
Please arrive at least half an hour early to secure seating.
From mid October, entry to the High Court will be from the ground entrance only.
If you have mobility issues please provide Karina Edwards with your name and contact details: Karina.Edwards@hcourt.gov.au.


---
Then our last major concert for 2017
---

Hector Berlioz
L'Enfance du Christ
(The Childhood of Christ)
Sung in English

Wesley Uniting Chuch, National Circuit Forrest
6.00 pm Saturday16 December 2017

Soloists
Rebecca Collins (soprano)
Michael Martin (tenor)
Rohan Thatcher (baritone)
Andrew Fysh (bass)
Michael Wilson (bass)

Tickets
Adult $40; Children under 15 and fulltime students $20; Family $100
10% discount if you book online!



About L'Enfance du Christ
The oratorio L'Enfance du Christ is Berlioz's take, mostly in his own words, on Chapter 2 of the Gospel according to St. Matthew concerning Herod the Great's persecution of a "king of the Jews" and the Holy Family's flight into Egypt.

Hector Berlioz was born in France on December 11, 1803. He turned his back on a career in medicine to follow his passion for music, and went on to compose works that showcased the innovativeness and search for expression that were hallmarks of Romanticism. His well-known pieces include the Symphonie fantastique, Grande messe des morts, La Damnation de Faust, and a setting of the Te Deum. Berlioz died in Paris on March 8, 1869 at the age of 65.

Berlioz's music was usually received with great hostility by Parisian audiences and critics, who generally accused it of being bizarre and discordant. By 1850, Berlioz had grown weary of this trend in which any new piece with his name on it incurred the immediate and obligatory wrath of his critics. So, at a concert that year, he passed off his La fuite en Egypte ('Flight into Egypt') as the work of an obscure 17th-century composer "Pierre Ducre"; the hoax worked exactly as he thought it would - the bait was not just taken, but swallowed whole. Some even took the opportunity to mention that M. Berlioz could learn much from M. Ducre on the writing of beautiful, devotional music.

La fuite en Egypte evolved into the oratorio L'enfance du Christ. It was first performed at the Salle Herz, Paris on 10 December 1854, with Berlioz conducting and soloists from the Opéra-Comique. It was an immediate success and was praised by all but two critics in the Paris newspapers.
Upcoming concerts
For information about later concerts see our Upcoming Concerts page.
Enquiries
Want to know more?
Email enquiries@llewellynchoir.org.au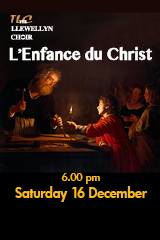 [ click to enlarge ]
  Copyright © 2013 The Llewellyn Choir Inc.
 
Design and hosting by Whim IT