2020 Fortieth Anniversary Program
Next Concert
Unfortunately, because of the risk from the COVID-19 virus to our audience and choristers, we have had to suspend all our activities for the moment. Hence our first concert for the year, Brahms' Ein deutsches Requiem has been postponed.
It is still our intention to perform this wonderful work when things return to normal, hopefully in the second half of the year.
We apologise to our friends and supporters.
Upcoming concerts
For information about later concerts see our Upcoming Concerts page.
Enquiries
Want to know more?
Email enquiries@llewellynchoir.org.au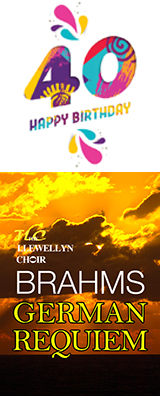 [ click to enlarge ]

Johannes Brahms
EIN DEUTSCHES REQUIEM
A German Requiem

UNFORTUNATELY, BECAUSE OF THE RISK FROM THE COVID-19 VIRUS TO OUR AUDIENCE AND CHORISTERS, WE HAVE HAD TO SUSPEND ALL OUR ACTIVITIES FOR THE MOMENT. HENCE THIS CONCERT HAS BEEN POSTPONED.

WE APOLOGISE TO OUR FRIENDS AND SUPPORTERS AND WILL KEEP YOU POSTED ABOUT FUTURE PLANS.

Enquiries
Email Llewellyn Choir enquiries


  Copyright © 2013 The Llewellyn Choir Inc.
 
Design and hosting by Whim IT