Praise for the Verdi Requiem
"The choir never failed throughout the concert; they came across as well-practised, well-presented and were on song ...The 120 or so singers in The Llewellyn Choir made this work a unique event to experience."
- Rob Kennedy, City News, 21 May 2017
Read the full review here
---
Welcome to The Llewellyn Choir
Welcome to the website of The Llewellyn Choir, one of Canberra's leading and longest-running choral groups. Our repertoire is based on the classical choral repertoire with orchestral accompaniment; it also includes lightly accompanied smaller pieces drawn from a wide range of sources.
We have ties with the ANU School of Music and Canberra Youth Music, and provide performance opportunities for their graduates and other young professional musicians. We also have links with Les Alizés Chorale in New Caledonia and exchange visits every two years.
We perform 3-4 times a year, and rehearse on Tuesday nights at the ANU School of Music, from 7.30 to 9.30pm.
---
We are always looking for new members. Find out how to join
.
---
And now for something completely different
What a fabulous experience it was to sign the Verdi Requiem to an almost packed Llewellyn Hall. Just to show how versatile The Llewellyn Choir is, our next concert is a double bill of two contrasting works: Mass in Blue, a jazz setting of the Mass by contemporary English composer Will Todd, and Misa Criolla, by Argentinian composer Ariel Ramírez. More details on the Next Concerts page.
---
The Singing Cyclist arrives in "Cairns"
Michael Braund, a member of The Llewellyn Choir, raised a considerable amount of money for our performance of Verdi's Requiem through a sponsored bike ride which has taken him close to 2500 km. This corresponded to a journey from Canberra to Cairns. Many of our members and friends joined him for his last leg and welcomed him to "Cairns" on Thursday 11 May.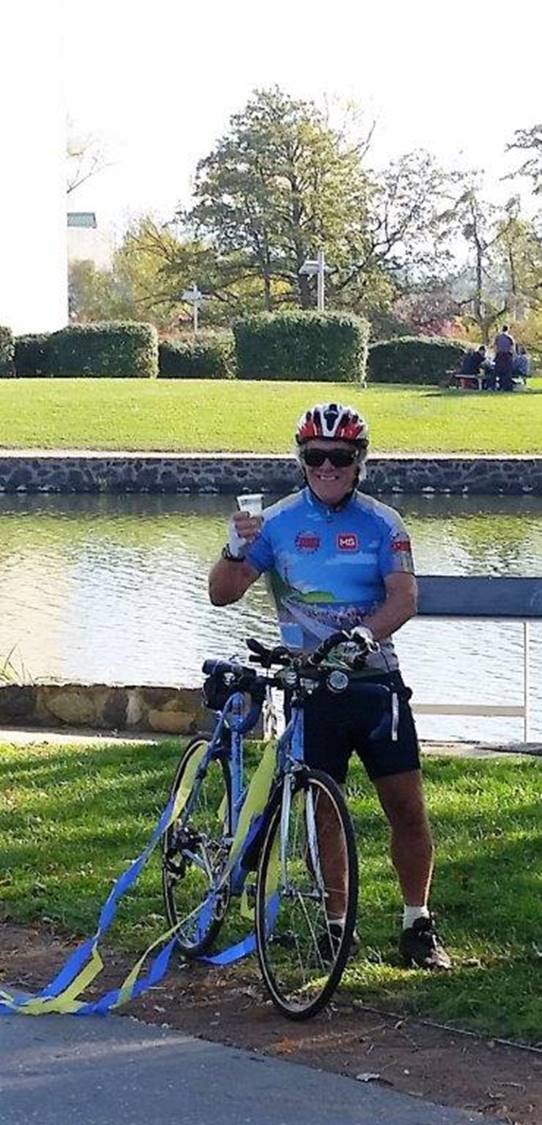 See more photos on the Photos page.
---
New members
We are always looking for new members. Find out how to join






[ click to enlarge ]
  Copyright © 2013 The Llewellyn Choir Inc.
 
Design and hosting by Whim IT