Praise for the Misa Criolla and Mass in Blue
"It was an inspired choice by the Llewellyn Choir to pair two masses, "Misa Criolla" and "Mass In Blue", in a concert. Using the same text, they could not be more different musically and both enjoyable to listen to...

"Mass in Blue" by Will Todd is a 2003 work set in a jazz idiom. It's a challenging work for singers but a delight for audiences to listen to. The combination of choral music and driving jazz and blues rhythms created an extraordinary atmosphere. Sonia Anfiloff's beautifully clear and strong soprano voice soared above the choir, adding another dimension to this fascinating and enjoyable work."

- Len Power, City News, 4 September 2017
Read the full review here
Welcome to The Llewellyn Choir
Welcome to the website of The Llewellyn Choir, one of Canberra's leading and longest-running choral groups. Our repertoire is based on the classical choral repertoire with orchestral accompaniment; it also includes lightly accompanied smaller pieces drawn from a wide range of sources.
We have ties with the ANU School of Music and Canberra Youth Music, and provide performance opportunities for their graduates and other young professional musicians.
We perform 3-4 times a year, and rehearse on Tuesday nights at the ANU School of Music, from 7.30 to 9.30pm.
---
Coming up for the rest of 2017
What a fabulous experience it was to sign the Misa Criolla and Mass in Blue to an almost packed Hughes Baptist Church. Our next performance will be at the High Court on Sunday 5 November as part of the Sunday Concert Series - free but bookings are required. Then our last work for the year and a major one at that - L'enfance du Christ by Hector Berlioz, on Saturday 16 December at Wesley Uniting Church. A lovely pre-christmas treat for singers and audience alike. More details on the Next Concerts page.
---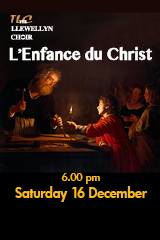 [ click to enlarge ]
  Copyright © 2013 The Llewellyn Choir Inc.
 
Design and hosting by Whim IT