Sponsor The Singing Cyclist's ride from Canberra to 'Geraldton', a distance of some 4,000 km, to raise funds towards our 40th anniversary performance of Brahms' A German Requiem in April 2020. Your sponsorship would be of immense help in staging this concert.

See our sponsorship page to find out how to donate.
---
Welcome to The Llewellyn Choir
Welcome to the website of The Llewellyn Choir, one of Canberra's leading and longest-running choral groups. Our repertoire is based on the classical choral repertoire with orchestral accompaniment; it also includes lightly accompanied smaller pieces drawn from a wide range of sources.
We have ties with the ANU School of Music and provide performance opportunities for their graduates and other young professional musicians.
We perform 3-4 times a year, and rehearse on Tuesday nights at the ANU School of Music, from 7.30 to 9.30pm.
---
'Hope!' full and heartwarming concert
Photo: Peter Hislop
See more of Peter's photos from the concert at the Photos page

"'To Hope!' was a most appropriate title for this uplifting and heart warming concert, designed by talented conductor Rowan Harvey-Martin, of music associated with the Roman Catholic Mass but performed with a distinct and prominent jazz flavour...It was performed on just the one night. A shame, as work of this standard deserves to be seen by many thousands more!!" - Ian Maclean, City News.

Another tremendous response from the audience to our To Hope! concert at Canberra Girls Grammar School on 18 October. Thanks to the CGGS's Gabriel Singers who were a big hit in the two Will Todd pieces, and to some of Canberra's best jazz musicians who accompanied us with such flair. Being able to pull off a concert of these challenging pieces is yet another demonstration of the versatility of The Llewellyn Choir.

Review: Read Ian Maclean's review for City News here.
Next performance
Our next concert will be the premiere performance of Michel Dooley's oratorio Perpetua at Wesley Uniting Church on Friday 22 November. For more information see our Next Concerts page.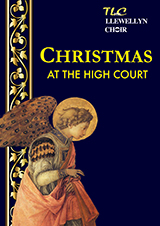 [ click to enlarge ]

Our next concert

CHRISTMAS AT THE HIGH COURT

Excerpts from Rutland Boughton's Bethlehem
plus
popular Christmas carols with audience sing-along

1.30 pm Sunday 8 December

Concert is free but booking required
Book through the High Court's website

Enquiries
Email Llewellyn Choir enquiries


  Copyright © 2013 The Llewellyn Choir Inc.
 
Design and hosting by Whim IT