Help us raise money for the Verdi Requiem
Few choral works have captured the public imagination in the way that Verdi's Requiem has. The soaring, lyrical melodies, and the work's extraordinary dramatic and emotional intensity, contribute to its status as one of the great icons of Western music. In order to defray the considerable costs of using the wonderful Llewellyn Hall—the only venue in Canberra that can do justice to the work—we are looking for generous people like you to sponsor us.
You could take out a corporate or individual sponsorship, or you could sponsor our Singing Cyclist.
Corporate and individual sponsorship
Opportunities exist for both corporate sponsorship and individual donations.

Corporate sponsorship
Orchestra Sponsor ($2500) Includes: recognition as the sponsor of a particular orchestra section (eg strings), 4 free concert tickets and a full page program advertisement
Soloist Sponsor ($1000) Includes: recognition as the sponsor of a particular soloist, 2 free concert tickets and half page advertisement
Program advertising: $500 (full page ad) or $250 (half page ad)
Donations: ($50 and above) All donations of $50 and above will be gratefully acknowledged in the program

Individual donations
All donations of $50 and above will be acknowledged in the program. Gifts to The Llewellyn Choir public fund are tax deductible

For more information download the Verdi Requiem sponsorship flyer (or click on the image to the left).

Sponsor the Singing Cyclist
Michael, a member of The Llewellyn Choir, is raising money for our performance of Verdi's Requiem. He will do this through a sponsored bike ride. Michael aims to ride up to 2500 km between mid-February and mid-May, and is seeking sponsors who will donate a specified amount per km. For example, if you donate 1c per km you will pay no more than $25 (depending on how close Michael gets to 2500 km), or if you donate 2c per km you will pay no more than $50, and so on. Alternatively, you can agree on a fixed amount.
The rides will be on roads and bike paths in and around Canberra, and will be mapped and logged.
Long-distance cycling can be lonely, so Michael will welcome anyone who wants to join him. You are welcome to join Michael on most Thursdays, starting at 8.30 am from the Carillon. The first such group ride will be on Thursday 16 February. Alternatively, or in addition, you can contact Michael if you wish to join him at other times.

For more information, and to sponsor Michael, download a Riding for the Requiem flyer and sponsorship form (or click on the image to the left).

---
Welcome to The Llewellyn Choir
Welcome to the website of The Llewellyn Choir, one of Canberra's leading and longest-running choral groups. Our repertoire is based on the classical choral repertoire with orchestral accompaniment; it also includes lightly accompanied smaller pieces drawn from a wide range of sources.
We have ties with the ANU School of Music and Canberra Youth Music, and provide performance opportunities for their graduates and other young professional musicians. We also have links with Les Alizés Chorale in New Caledonia and exchange visits every two years.
We perform 3-4 times a year, and rehearse on Tuesday nights at the ANU School of Music, from 7.30 to 9.30pm.
---
We are always looking for new members. Find out how to join
.
---
Praise for The Star of Bethlehem
"Beautifully performed by all, it was especially notable for its dramatic and atmospheric opening and closing movements. Soprano Rebecca Collins sang gloriously in the second and eighth movements and Rohan Thatcher's fine, resonant baritone was heard to good effect in the fourth movement."

And for Wassails and Lullabies:
"This challenging and unusual work proved to be the highlight of the concert. Its haunting medieval rhythms and harmonies were well sung by the choir and there was excellent work on percussion by Steve Fitzgerald and Veronica Bailey."

- Len Power, City News, 18 December 2016
Read the full review here
And now for Verdi's Requiem
On to our next offering: Verdi's Requiem on 20 May 2017. We invited experienced Canberra singers to join us in presenting this wonderful work, and the response was overwhelming. So it's going to be a great concert with a choir of 150 voices and the Llewellyn Sinfonia. More details on the Next Concerts page.
---
New members
We are always looking for new members. Find out how to join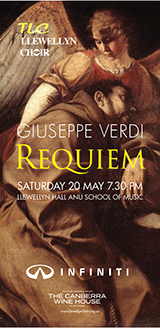 [ click to enlarge ]
  Copyright © 2013 The Llewellyn Choir Inc.
 
Design and hosting by Whim IT