Choir poised to win over Spain
"Judging by its performance of Luigi Cherubini's Requiem Mass in C minor and Louis Vierne's Messe Solonelle the choir should make quite an impression with audiences in Spain. It certainly impressed the audience at its Manuka concert..."

"... Conductor Rowan Harvey-Martin has done excellent work with the choir with both works, not only technically but with the emotional depth that the choir achieved."

- Len Power, City News, 8 April 2018
Read the full review here

Welcome to The Llewellyn Choir
Welcome to the website of The Llewellyn Choir, one of Canberra's leading and longest-running choral groups. Our repertoire is based on the classical choral repertoire with orchestral accompaniment; it also includes lightly accompanied smaller pieces drawn from a wide range of sources.
We have ties with the ANU School of Music and Canberra Youth Music, and provide performance opportunities for their graduates and other young professional musicians.
We perform 3-4 times a year, and rehearse on Tuesday nights at the ANU School of Music, from 7.30 to 9.30pm.
---
Off to Spain
Another successful peformance of Cherubini's Requiem in C minor and Vierne's Mess Solennelle at St Paul's on 7 April. Now many of our choir members are touring Spain to perform these works in a number of beautiful and historic churches and cathedrals in Madrid, Salamanca, Cordoba and Barcelona. More details on the Next concert page.

In the meantime those who are left behind are taking a short break, then doing some workshops with the lovely Greta Claringbold, and getting a head start on the music for our 26 August concert, which will be on a theme of good music and good wide. More details on the Upcoming concerts page.
---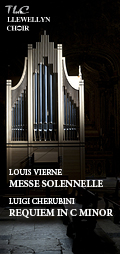 [ click to enlarge ]

Requiem Mass in C Minor
Luigi Cherubini
and
Messe Solennelle
Louis Vierne

And motets by Bruckner, Mozart and Rachmaninoff

Touring in Spain

Wed 18
Madrid
Thu 19
Salamanca
Sun 22April
Cordoba
Fri 27 April
Barcelona



Enquiries
Email Llewellyn Choir enquiries


  Copyright © 2013 The Llewellyn Choir Inc.
 
Design and hosting by Whim IT