Sing Verdi's Requiem with us
UNFORTUNATELY WE HAVE REACHED OUR LIMIT FOR GUEST SOPRANOS AND ALTOS!
BUT WE STILL HAVE A LITTLE ROOM LEFT FOR TENORS AND BASSES

We are very excited to be presenting another Come and Sing opportunity. We are presenting Verdi's Requiem on 20 May 2017 in the Llewellyn Hall, and are inviting singers in all parts to apply to join us in what will be a great musical event.

Rehearsals will be on Tuesday evenings from 7 February and there will of course be extra rehearsals in the final week. Singers will need to be able to commit to the majority of these rehearsals. You'll need to take out a guest membership which will cost $100, plus a $10 score hire fee (although if you have your own copy of the score you'll be welcome to use that instead).

If necessary we may need to limit the number of singers to fit the stage and to ensure balance of parts in the choir.

To register your interest, follow this link:
www.surveymonkey.com/r/8WNPT2M
---
Welcome to The Llewellyn Choir
Welcome to the website of The Llewellyn Choir, one of Canberra's leading and longest-running choral groups. Our repertoire is based on the classical choral repertoire with orchestral accompaniment; it also includes lightly accompanied smaller pieces drawn from a wide range of sources.
We have ties with the ANU School of Music and Canberra Youth Music, and provide performance opportunities for their graduates and other young professional musicians. We also have links with Les Alizés Chorale in New Caledonia and exchange visits every two years.
We perform 3-4 times a year, and rehearse on Tuesday nights at the ANU School of Music, from 7.30 to 9.30pm.
---
We are always looking for new members. Find out how to join
.
---
Praise for The Star of Bethlehem
"Beautifully performed by all, it was especially notable for its dramatic and atmospheric opening and closing movements. Soprano Rebecca Collins sang gloriously in the second and eighth movements and Rohan Thatcher's fine, resonant baritone was heard to good effect in the fourth movement."

And for Wassails and Lullabies:
"This challenging and unusual work proved to be the highlight of the concert. Its haunting medieval rhythms and harmonies were well sung by the choir and there was excellent work on percussion by Steve Fitzgerald and Veronica Bailey."

- Len Power, City News, 18 December 2016
Read the full review here
And now for Verdi's Requiem
On to our next offering: Verdi's Requiem on 20 May 2017. We are inviting experience Canberra singers to join us in presenting this wonderful work - more details at the top of this page or on the Next Concerts page.
---
Celebrating 10 years of excellent leadership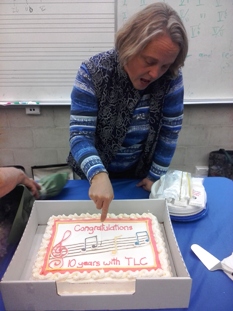 Rowan Harvey-Martin with her cake celebrating 10 years as Music Director
(Click to enlarge)
---
New members
We are always looking for new members. Find out how to join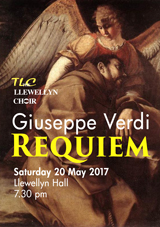 [ click to enlarge ]
  Copyright © 2013 The Llewellyn Choir Inc.
 
Design and hosting by Whim IT