Book tickets online for our next concert A Choral Potpourri

Welcome to The Llewellyn Choir
Welcome to the website of The Llewellyn Choir, one of Canberra's leading and longest-running choral groups. Our repertoire is based on the classical choral repertoire with orchestral accompaniment; it also includes lightly accompanied smaller pieces drawn from a wide range of sources.
We have ties with the ANU School of Music and Canberra Youth Music, and provide performance opportunities for their graduates and other young professional musicians. We also have links with Les Alizés Chorale in New Caledonia and exchange visits every two years.
We perform 3-4 times a year, and rehearse on Tuesday nights at the ANU School of Music, from 7.30-9.30pm.
---
We are always looking for new members. Find out how to join
.
---
An Anzac Concert
Our first concert for 2015 on 18 April was a great success and warmly received. Our thanks go to the Yass Music Club for their wonderful hospitality and for the opportunity to perform our concert which we feel was a fitting introduction to the centenary of Anzac.

Read the YMC's report on our Anzac Concert.


A Choral Potpourri
Details of our next concert, A Choral Potpourri have been firmed up, and can be seen on our Next Concert page.
Visit by Les Alizés Chorale from New Caledonia
Details of our joint concerts with our sister choir Les Alizés Chorale from New Caledonia are being firmed up. The major item will be Karl Jenkins' The Armed Man in the historic chapel of the Royal Military College, Duntroon. More details are on the Upcoming Concerts page.
---
New members
We are always looking for new members. Find out how to join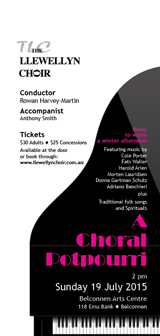 [ click to enlarge ]

  Copyright © 2013 The Llewellyn Choir Inc.
 
Design and hosting by Whim IT