Praise for Berlioz's L'Enfance du Christ
"Conductor Rowan Harvey-Martin has done an excellent job bringing this large work together. Tenor Michael Martin sang the role of the Narrator with great feeling, especially at the start of the third section. As Herod, Andrew Fysh's fine bass voice was heard to great effect in the frenzied sequence where he orders the death of the babies..."

"... The shepherd's farewell to the Holy Family was memorably performed by the large Llewellyn Choir and the finale of the work was sung with great sensitivity..."

- Len Power, City News, 18 December 2017
Read the full review here

Welcome to The Llewellyn Choir
Welcome to the website of The Llewellyn Choir, one of Canberra's leading and longest-running choral groups. Our repertoire is based on the classical choral repertoire with orchestral accompaniment; it also includes lightly accompanied smaller pieces drawn from a wide range of sources.
We have ties with the ANU School of Music and Canberra Youth Music, and provide performance opportunities for their graduates and other young professional musicians.
We perform 3-4 times a year, and rehearse on Tuesday nights at the ANU School of Music, from 7.30 to 9.30pm.
---
Coming up in 2018
It was standing room only at Wesley Uniting Church for our final concert of 2017 - the lovely L'Enfance du Christ by Hector Berlioz. Audience, choir and orchestra all thoroughly enjoyed this beautiful work. Now on to our next concert which we are performing in Canberra on 7 April 2018 and then taking on a tour of Spain, performing in a number of beautiful and historic churches and cathedrals in Madrid, Salamanca, Cordoba and Barcelona. More details on the Next Concerts page.
---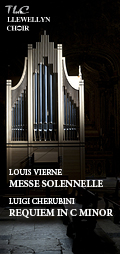 [ click to enlarge ]

Requiem Mass in C Minor
Luigi Cherubini
and
Messe Solennelle
Louis Vierne

Saturday 7 April 2018
St Paul's Anglican church
Manuka



Enquiries
Email Llewellyn Choir enquiries
  Copyright © 2013 The Llewellyn Choir Inc.
 
Design and hosting by Whim IT