Welcome to The Llewellyn Choir
Welcome to the website of The Llewellyn Choir, one of Canberra's leading and longest-running choral groups. Our repertoire is based on the classical choral repertoire with orchestral accompaniment; it also includes lightly accompanied smaller pieces drawn from a wide range of sources.
We have ties with the ANU School of Music and provide performance opportunities for their graduates and other young professional musicians.
We perform 3-4 times a year, and rehearse on Tuesday nights at the ANU School of Music, from 7.30 to 9.30pm.

---
The Singing Cyclist reaches his goal!

On Saturday 22 February, Michael, The Singing Cyclist rode into "Geraldton", accompanied by ten supporters, and celebrated reaching his 4000 km goal. It was a very pleasing occasion: pleasant weather, no smoke, gentle pace, nice people. Coloured tape and a welcome "energy drink" were well received. To mark the occasion a very impressive-looking and noisy military aircraft performed a double fly-over.

Through the generosity of his sponsors he raised some $5, 500 to help in the presentation of TLC concerts this year
---
Carols at the Court
The Lllewellyn Choir and Resound Handbells from Canberra Girls Grammar School performing in Carols at the Court, Sunday 8 December 2019. At this concert the performers give their services for free and ask the audience to donate to a chosen charity. This year their thoughts were with bushfire-affected communities. The concert raised $2,550.90; half each went to the Red Cross Disaster Relief and the Mercy Ships.

See more photos of this and other concerts on our Photos page.

Photo courtesy of Peter Hislop

---
Next performance
Our first concert in our 40th anniversary program was to have been Brahms' Ein deutsches Requiem ('A German Requiem') in the Chapel of the Annunciation at Canberra Girls Grammar School on Friday 24 April 2020. However, beause of the risks from the COVID-19 virus, we have had to defer all activities for the first half of this year. More information will be posted on our Next Concerts page as conditions ease.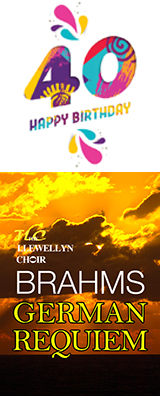 [ click to enlarge ]

Johannes Brahms
EIN DEUTSCHES REQUIEM
A German Requiem

UNFORTUNATELY, BECAUSE OF THE RISK FROM THE COVID-19 VIRUS TO OUR AUDIENCE AND CHORISTERS, WE HAVE HAD TO SUSPEND ALL OUR ACTIVITIES FOR THE MOMENT. HENCE THIS CONCERT HAS BEEN POSTPONED.

WE APOLOGISE TO OUR FRIENDS AND SUPPORTERS AND WILL KEEP YOU POSTED ABOUT FUTURE PLANS.

Enquiries
Email Llewellyn Choir enquiries


  Copyright © 2013 The Llewellyn Choir Inc.
 
Design and hosting by Whim IT