Welcome to The Llewellyn Choir
Welcome to the website of The Llewellyn Choir, one of Canberra's leading and longest-running choral groups. Our repertoire is based on the classical choral repertoire with orchestral accompaniment; it also includes lightly accompanied smaller pieces drawn from a wide range of sources.
We have ties with the ANU School of Music and provide performance opportunities for their graduates and other young professional musicians.
We perform 3-4 times a year, and rehearse on Tuesday nights at the ANU School of Music, from 7.30 to 9.30pm.

---
Carols at the Court
The Lllewellyn Choir and Resound Handbells from Canberra Girls Grammar School performing in Carols at the Court, Sunday 8 December 2019. At this concert the performers give their services for free and ask the audience to donate to a chosen charity. This year their thoughts were with bushfire-affected communities. The concert raised $2,550.90; half each went to the Red Cross Disaster Relief and the Mercy Ships.

See more photos of this and other concerts on our Photos page.

Photo courtesy of Peter Hislop

---
Next performance
We are making our first tentative steps towards performing in public, with an informal Christmas concert for members and friends at the Weston Neighbourhood Centre on Saturday 19 December. For more information see our Next Concerts page.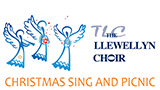 [ click to enlarge ]

An informal concert for TLC members, guests and friends.
Featuring Morten Lauridsen's Lux Aeterna and a selection of carols.

There is no charge but bookings are necessary to comply with our COVIDSafe plan.



Enquiries
Email Llewellyn Choir enquiries
  Copyright © 2013 The Llewellyn Choir Inc.
 
Design and hosting by Whim IT