Praise for Elijah
"What an exhilarating concert this was; satisfying in every respect and thoroughly deserving of the enthusiastic and extended applause of the sizable audience."
- Clinton White, City News, 17 April 2016
Read the full review here
"Mendelssohn's oratorio was given a performance of discipline and beauty."
- Jennifer Gall,Canberra Times, 19 April 2016
Read the full review here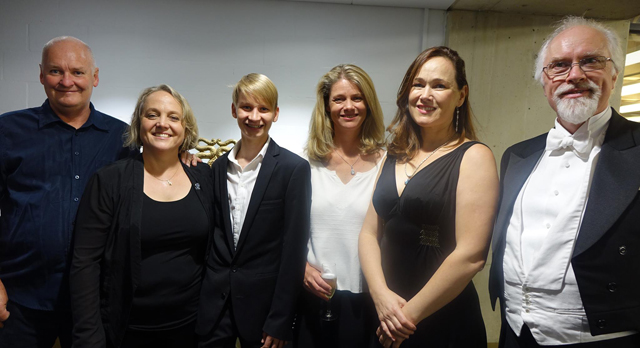 Soloists relaxing after Elijah
Michael Martin, Rowan Harvey-Martin, Charlie Barnes, Christina Wilson, Rebecca Collins, Douglas McNicol
(Click to enlarge)
---
Welcome to The Llewellyn Choir
Welcome to the website of The Llewellyn Choir, one of Canberra's leading and longest-running choral groups. Our repertoire is based on the classical choral repertoire with orchestral accompaniment; it also includes lightly accompanied smaller pieces drawn from a wide range of sources.
We have ties with the ANU School of Music and Canberra Youth Music, and provide performance opportunities for their graduates and other young professional musicians. We also have links with Les Alizés Chorale in New Caledonia and exchange visits every two years.
We perform 3-4 times a year, and rehearse on Tuesday nights at the ANU School of Music, from 7.30-9.30pm.
---
We are always looking for new members. Find out how to join
.
---
Celebrating 10 years of excellent leadership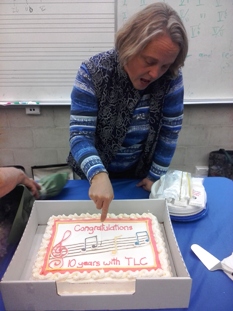 Rowan Harvey-Martin with her cake celebrating 10 years as Music Director
(Click to enlarge)
---
Elijah a huge success!
A fabulous night was had by all - the singers, orchestra and the large and enthusiastic audience. Thanks to everyone involved, especially our inspiring Music Director and conductor Rowan Harvey-Martin, our brilliant soloists, the Llewellyn Sinfonia, and to all our guest singers, who made it such a pleasure rehearsing and perform this wonderful work.
Ikon of Light
Now on to our second concert for 2016, featuring John Tavener's Ikon of Light and Morten Lauridsen's Lux Aeterna - for something completely different from Elijah. Saturday 30 July at 6 pm. More details are available on the Next Concerts page.
---
New members
We are always looking for new members. Find out how to join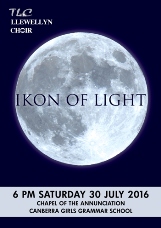 [ click to enlarge ]

  Copyright © 2013 The Llewellyn Choir Inc.
 
Design and hosting by Whim IT