Praise for The Armed Man
"The Anzac Memorial Chapel of St. Paul at RMC Duntroon with its great acoustics was a perfect venue to hear this concert. The two choirs, soloists, orchestra and conductors gave Canberra a particularly exciting and memorable music evening."
- Len Power, Canberra Critics Circle, 4 October 2015

"I enjoyed the concert more than words can express. The alchemy of all the different elements was wonderfully effective, the music was beautifully performed by all. Above all, I experienced one of those rare moments in life of transcendence: I felt a sense of hope."
- Audience member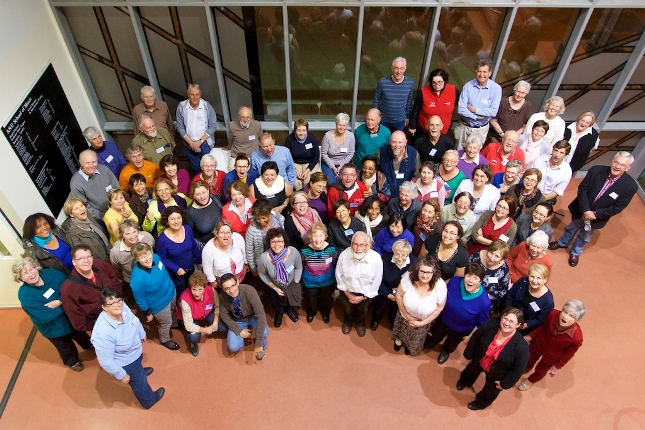 Llewellyn Choir and Les Alizés Chorale take a break during rehearsals for The Armed Man
(Click to enlarge)
---
Welcome to The Llewellyn Choir
Welcome to the website of The Llewellyn Choir, one of Canberra's leading and longest-running choral groups. Our repertoire is based on the classical choral repertoire with orchestral accompaniment; it also includes lightly accompanied smaller pieces drawn from a wide range of sources.
We have ties with the ANU School of Music and Canberra Youth Music, and provide performance opportunities for their graduates and other young professional musicians. We also have links with Les Alizés Chorale in New Caledonia and exchange visits every two years.
We perform 3-4 times a year, and rehearse on Tuesday nights at the ANU School of Music, from 7.30-9.30pm.
---
We are always looking for new members. Find out how to join
.
---
The Armed Man a big success!
Our joint concert with our sister choir Les Alizés Chorale from New Caledonia was a great success, if the standing ovation from the audience is any guide. It was a thriling experience to perform such a powerful work especially with the fantastic Llewellyn Sinfonia. It was doubly exciting to be able to perform in the historic chapel of the Royal Military College, Duntroon, and we'd like to thank the Commandant and Chaplain of the RMC for their support.
Christmas concert
Now on to our Christmas concert on Saturday 19 December. The program is being finalised and details will be available soon on the Next Concerts page.
---
New members
We are always looking for new members. Find out how to join

[ click to enlarge ]

  Copyright © 2013 The Llewellyn Choir Inc.
 
Design and hosting by Whim IT