Welcome to The Llewellyn Choir
Welcome to the website of The Llewellyn Choir, one of Canberra's leading and longest-running choral groups. Our repertoire is based on the classical choral repertoire with orchestral accompaniment; it also includes lightly accompanied smaller pieces drawn from a wide range of sources.
We have ties with the ANU School of Music and Canberra Youth Music, and provide performance opportunities for their graduates and other young professional musicians. We also have links with Les Alizés Chorale in New Caledonia and exchange visits every two years.
We perform 3-4 times a year, and rehearse on Tuesday nights at the ANU School of Music, from 7.30-9.30pm.
---
We are always looking for new members. Find out how to join
.
---
From Those Who Served
Our most recent concert, From Those Who Served, commemorated composers who either served at the front in The Great War, or were deeply affected by it. We performed to a nearly packed house at St Paul's Anglican Church, and if the audience feedback was anything to go by, it was a moving performance of some very beautiful and not well known music.

Coming up
We have two more concerts in 2014 - an informal Musical Offering in the magnificent High Court foyer, and our last major concert for the year to celebrate the beginning of Advent.
Read more about our next concerts
---
New members
We are always looking for new members. Find out how to join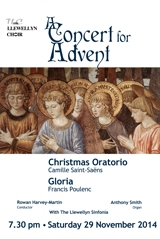 [ click to enlarge ]


  Copyright © 2013 The Llewellyn Choir Inc.
 
Design and hosting by Whim IT