Highly successful tour of Spain by The Llewellyn Choir
39 members of The Llewellyn Choir, plus 9 non-singing partners, toured Spain between 15 April and 1 May. We performed in some absolutely wonderful venues: the Parroquia de Neustra Senora de Covadonga in Madrid, the "Old" Cathedral in Salamanca, the Mosque Cathedral in Cordoba, and the Cathedral of Santa Eulalia in Barcelona. In addition we did impromptu performances in the Roman Theatre in Merida, the Toledo Cathedral and the Palau de la Musica in Barcelona. Most agreed that the highlight was singing as part of a mass in the amazing Mosque Cathedral, where we sang four unacommpanied motets at specified points in the service.

Our tremendous thanks to Everyl Ellis and Lesley Bills for their fine work in organising the tour, through Gullivers Sports/ Music Travel in Australia in conjunction with Veronia Tours in Spain.


---
Welcome to The Llewellyn Choir
Welcome to the website of The Llewellyn Choir, one of Canberra's leading and longest-running choral groups. Our repertoire is based on the classical choral repertoire with orchestral accompaniment; it also includes lightly accompanied smaller pieces drawn from a wide range of sources.
We have ties with the ANU School of Music and provide performance opportunities for their graduates and other young professional musicians.
We perform 3-4 times a year, and rehearse on Tuesday nights at the ANU School of Music, from 7.30 to 9.30pm.
---
Back from Spain
Following a successful and highly enjoyable tour of Spain, we are now settled in and rehearsing for our next concert on 26 August concert, in which we will be presenting music in a lighter vein. A good way to chase away the chill of a winter afternoon. More details on the Next concert page.
---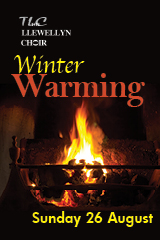 [ click to enlarge ]

Winter Warming

A concert to chase away the winter chill and lighten the heart

A perfect way to spend a chilly Sunday afternoon

2 pm
Sunday 26 August 2018

Overture Hall
Orana Steiner School
15 Hickey Ct Weston



Enquiries
Email Llewellyn Choir enquiries
  Copyright © 2013 The Llewellyn Choir Inc.
 
Design and hosting by Whim IT